Submitted by

Katja Reuter

on Feb 9, 2011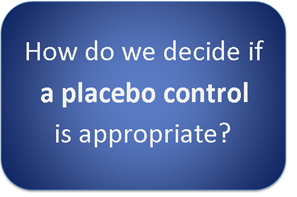 Two recent well-designed randomized controlled trials (RCTs) showed that two new agents, 1) lasofoxifene, a selective estrogen-receptor modulator, and 2) denosumab, a monoclonal antibody that inhibits osteoclasts, prevented fractures in women with osteoporosis.  The RCTs compared the new agent vs. placebo added to calcium + vitamin D.  However, other therapies are known reduce the incidence of fractures by 30%-50% compared to calcium + vitamin D. 
Placebo controlled trials for osteoporosis have been controversial when effective therapies exist.  Such trials are clearly unethical if participants are at risk for serious harm or if they do not give informed consent.  However, how do we determine whether harm is serious or whether consent is informed?  In one of the trials, incidence of hip fractures in the placebo was 1.2% vs. 0.7% in the active group, and the incidence of vertebral fracture was 7.2% vs. 2.3% respectively.  All hip fractures are serious; many vertebral fractures are clinically silent.  In these studies, all women were informed of the availability of drugs that prevent osteoporotic fractures.  If a participant developed a new fracture or her bone mineral density dropped below predetermined thresholds, she was referred to her treating physician to consider off-study treatments for osteoporosis.  
What would you recommend? Suppose you are a member of an Institutional Review Board (IRB) reviewing a clinical trial of a new drug for osteoporosis, comparing the new drug vs. placebo added to calcium + vitamin D. First, to ensure that the benefit/risk ratio in the trial is acceptable, what protocol requirements and IRB procedures would you recommend?  And second, what measures would you require to ensure that consent is informed and voluntary?