Digital Health Resources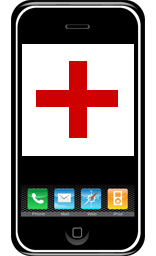 Digital Health (dHealth) encompasses everything from healthcare IT to Mobile Health. Mobile Health (mHealth) refers more specifically to the use of mobile communication devices (phones, iPads, etc) in conjunction with biosensors and/or internet and social media to improve and manage health.
UCSF Digital Health Group
This informal working group aims to:
Provide a unified approach, architecture, online branding, and technical services for developing digital health applications at UCSF
Lay the foundation and facilitate the development of creative digital applications for our patients for both health-related, research, and training purposes
Join the Digital Health Group
Send an email to join the Digital Health Group (leave the subject line of the email blank).
You'll receive announcements about activity in the Digital Health field at UCSF and beyond.
Join us at our monthly Brown Bag lunchtime meetings.
Digital Health Group Members

(pdf 86KB)

Direct questions to Aenor Sawyer or Jeff Jorgenson

Tip:

to identify yourself as a researcher in the Digital Health field, describe your interest (using the term "Digital Health") in your narrative on UCSF Profiles. Potential collaborators will then be able to find you by searching with keyword "Digital Health". Many researchers also identify themselves with the terms "Mobile Health" or "mHealth."
RAP Funding
The UCSF Resource Allocation Program (RAP) provides intramural funding for Digital Health research:
Catalyst Awards for the Development of Diagnostics, Devices, Therapeutics and Digital Health
Learn more | Apply
Applicants may use the Digital Health Innovators Forum, below, to ask questions and discuss potential projects.
Join the UCSF Digital Health Group to receive announcements of extramural Digital Health funding opportunities.
Digital Health Innovators Forum
This forum engages members of the UCSF Community to improve the overall quality of Digital Health grant proposals submitted for RAP funding. It is available for:
Open sharing of questions, ideas and information;
Increasing the general level of science on the topic of Digital Health;
Accessing answers, opinions, and comments from colleagues and topic experts across campus on Digital Health-related issues.
Digital Health Consultation Service
Get expert advice from UCSF faculty that will guide you in the development of your Digital Health research project:
Current trends & design ideas in health apps
Advice on technical issues (e.g., privacy, connectivity to EHRs)
Evaluation methods
Usage patterns of mobile technology (e.g., digital divide)
Referral to technical and legal services
Additional Resources
UCSF Resources
External Resources
Digital Health Application Brown Bag
No events are scheduled at this time.