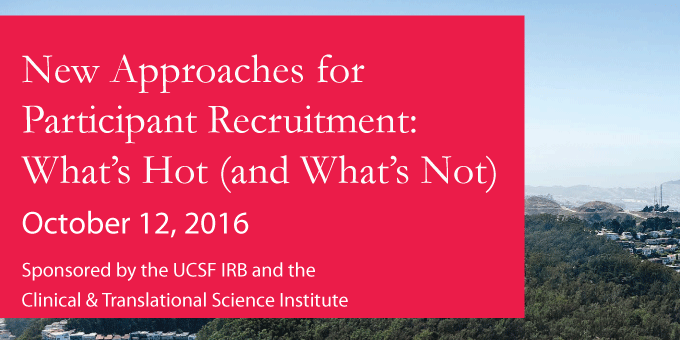 Q&A From Session
Can non-UCSF faculty/staff post studies on TrialFinder? If one or more staff is UCSF faculty, can a non-UCSF staff member facilitate the posting?

Trials are automatically pulled from ClinicalTrials.gov when they match certain criteria, such as a UCSF PI, UCSF listed as one of the sites or sponsor, or one of the sites has information (zip code, phone prefix or email) that is recognizably UCSF-related. Currently, that's the only way to get listed.

Does TrialFinder automatically populate from ClinicalTrials.gov or do we update that separately?

Trials and updates are automatically pulled from ClinicalTrials.gov. No need to double-enter updates!

Can I edit my TrialFinder page?

Yes, by editing your trial's information in ClinicalTrials.gov.

If our study is not on ClinicalTrials.gov, will you be pulling it from the IRB to post on the UCSF beta site later on? Does it need to be posted on the ClinicalTrials.gov site?

Our eventual goal is to get a small set of data from the IRB (lay description, recruiting status, whether or not the study wants to be listed, maybe others as we discover them). ClinicalTrials.gov will be the primary source for the public launch and probably well beyond. We're also looking into OnCore, which is great for cancer trials, but isn't a complete set of UCSF trials.

To post on the ClinicalTrials.gov site, does it need to be a clinical trial? Can it be a behavioral study?

The NIH doesn't require that behavioral studies be listed on ClinicalTrials.gov, but that system does support behavioral studies and allows them to be designated as such.

Social Media questions answered by Danielle Ramo

More information on Dr. Ramo's work

Do you get a higher prevalence of "professional participants" (ex. people who over-report, familiar with screenings) with the use of social media?

Great question. With certain online recruitment strategies (e.g., Amazon mechanical turk, which did not come up in the seminar yesterday), there is a much higher probability of getting "professional research participants." I would worry about this specifically for online survey research. Social media is definitely easier for people to access a survey, and thus if using any social media recruitment, I would build in strategies to validate data (e.g., asking participants to send proof of identify). For experimental or clinical research, it is a lower probability, given that it tends to be much harder to meet inclusion criteria. Further, if a participant meets criteria for a clinical trial or experimental study, it should not matter if they are also participants in other types of research per se.

With the cohort ID and direct mail, can one target people based on the number of sexual partners?

We can only query existing APEX fields, and do not have the ability to query clinical notes at this time. Typical queries are based on: ICD codes, age, sex, zip code, gender, clinic, provider, date of last visit.

What is the cost for the direct mail? Is or delivered via email or by paper mail?

The cost of the letters is $.53/piece, which includes paper, printing, and postage. There is a small amount of staff time to coordinate the mailing (typically around 1-2 hours @$100/hour.) Additionally, ARS may have some fees related to the data query. Their model is they provide the first 8 hours free. Most data queries can be completed within 8 hours.

We currently only offer the service via USPS but hope to expand in the future.

For using researchmatch.org, is there a confidentiality agreement that volunteers and researchers sign/agree to? My concern is with confidential health info.

UCSF has an institutional agreement with ResearchMatch that covers legal, ethical and privacy concerns. ResearchMatch is a secure, central database that stores information about individuals who may want to volunteer in research, now or in the future. All ResearchMatch data that is sent between the web server and browsers will be coded (encrypted) using Secure Sockets Layer (SSL) protection. It's important to note that no study data is stored in ResearchMatch—once the recruitment referral is made via the ResearchMatch portal, potential participants are redirected to the study's online pre-screener.

Are there any resources for facilitating EHR recruitment across UCSF sites, for example SFGH and SVAMC?

We currently only have access to recruit using electronic medical records from UCSF and SFGH. We are developing additional resources in this area.

Video Resource questions answered by Gina Gaiser

Does UCSF offer services for creating and advertising videos?

Here are some support options for video at UCSF:
More questions and answers coming soon!