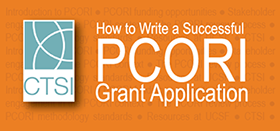 Are you thinking about writing a proposal for PCORI? The UCSF Clinical and Translational Science Institute (CTSI) is offering a free online mini-course on key elements of applying for PCORI funding.
This course is not being offered at this time.
The course comprises seven short lectures (10-20 minutes each) given by leading faculty on topics of key interest to PCORI reviewers. Lectures will be posted online over a span of seven weeks, and participants may watch the lectures on their own schedule any time during a given lecture's week. Online discussion boards will supplement the lecture material and allow participants to interface with course faculty. Participants will be able to download PDF documents of lectures slides and a list of other recommended resources.
Schedule