Resident Research Training Program (RRTP)
Many graduate medical education programs at UCSF are working to facilitate clinical and translational research opportunities for residents who plan to make research a part of their careers. CTST has established a research elective and other initiatives to help promote residents' career development. The goals are to create opportunities for all residents to gain a foundational understanding of clinical and translational research methods and evidence-based medicine skills, and to inspire and facilitate residents to pursue future opportunities for career development as investigators.
The program is comprised of training, career development, courses, funding opportunities for clinical research, and travel to present findings at scientific meetings; and an annual research symposium.
RRTP Ambassadors
The Resident Research Training Program has appointed ambassadors for each residency program. The ambassadors will provide guidance and information to residents interested in pursuing research training. Please click on a department's name for information on that program.
Designing Clinical Research Course
Designing Clinical Research for Residents and Students (Epi 150.03, classroom setting, August) is a course that requires 50% protected time and is taught twice a year, in August and September, in a one-month format. Modeled after the highly successful summer clinical research workshop of the Training in Clinical Research (TICR) program, the elective will lead residents through the essential components for writing a clinical research protocol, developed around their own clinical research question. The tangible product of the course is a 5-page clinical research protocol. The residents will attend bi-weekly group lectures and small resident-only seminar groups led by core faculty for the CTST resident initiative with additional faculty participating to meet resident enrollment.
September Registration Not Yet Open
NOTE: It is very strongly recommended for those applying to Resident Research Funding (RRF) and Resident Research Travel to have successfully completed the Designing Clinical Research (DCR) course or equivalent didactic training in clinical research.
We are limiting DCR registration to the first 40 residents.
There are a number of courses in clinical and translational research available to residents.
For those residents with at least one year of protected time for research, we encourage enrollment in the Advanced Training in Clinical Research Program Certificate Program (ATCR). Residents pursuing ATCR without Departmental support should consult CTST to determine the availability of tuition assistance.
Residents conducting research are encouraged to present their work at the Resident Research Symposium; see below.
Resident Research Symposium (RRSy)
View 2017 Program Book
(pdf 300KB)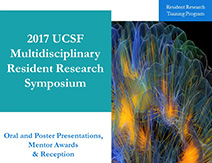 CTSI in conjunction with the Molecular Medicine Pathway will hold its annual UCSF Multi-disciplinary Resident Research Symposium on Monday, June 11, 2018, at the Mission Bay campus, Mission Hall, MH-1400 and MH-1401/1402 from 4:00 to 7:00 PM. This research symposium provides an opportunity for residents to present their work and to develop cross-departmental collaborations. Residents will be asked to submit their abstract as clinical & translation research, global health, or molecular medicine based upon the focus of their research.
Five top abstracts will be selected for oral presentation and will be awarded $75 gift cards. Additionally, we will be selecting three posters for $50 gift cards. The posters will be selected on the day of the event from among attendees (residents and faculty) and winning posters will receive their award at a later date.
Application Instructions and Deadlines:
Resident abstracts are reviewed for both oral and poster presentation. Residents are encouraged to submit any projects that have at least preliminary outcomes data or results, including posters already presented in another venue, and projects that are still in-progress. All abstracts must include some data with at least preliminary results to present and all abstracts are limited to 450 words. (Please click on last year's program for examples). Abstracts may present findings from any discipline, provided that they are designed to contribute to generalizable knowledge. Reports of medical education or quality improvement initiatives should be submitted only if rigorous research methods are used to assess outcomes and results are expected to be generalized to a larger population beyond the initial site of implementation. Residents may only present while in residency.
NOTE: All residents accepting any Resident Research Training Program (RRTP) award such as Resident Research Funding (RRF) or Resident Research Travel (RRT) agree to submit an abstract to the symposium before leaving UCSF.
Submission deadline is Sunday, May 13, 2018
For additional questions please contact Christian Leiva for clinical and translational research or Dr. Ben Cheyette for molecular medicine.
See also: Resident Funding