Responsible Conduct of Research (RCR) Online Course (Epi 201)
Responsible Conduct of Research (RCR) helps people starting their research careers learn how to address the ethical issues that inevitably arise in research. It addresses the requirements of the National Institutes regarding ethical issues in human subjects research and research misconduct.
Course Objectives
Identify at least three common ethical issues that clinical and translational researchers commonly face and the ethical guidelines for addressing these issues.
Explain key elements of the federal regulations for research with human subjects.
Analyze the ethical issues in a research protocol, identify where it does not meet regulatory and ethical standards, and suggest how to address those problems.
Provide constructive feedback on colleagues' ideas regarding ethical issues in research.
Describe the ethical guidelines and federal regulations pertaining to research misconduct and conflicts of interest in research.
Schedule
Responsible Conduct of Research Online is a 6-week course. Participants are expected to devote at least 4 hours per week to individual work and online peer interaction. Topics include:
WEEK 1
Assessment of Risks and Benefits in IRB Review
Practical Issues in IRB Review
WEEK 2
WEEK 3
WEEK 4
What is Research Misconduct and Why Does It Matter?
WEEK 5
WEEK 6
Research in Resource-Poor Countries
Text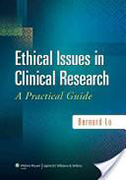 Lo, Bernard. Ethical Issues in Clinical Research: A Practical Guide. Lippincott Williams & Wilkins, Jun 3, 2009 -292 pages. ISBN 078178817X, 9780781788175
This book teaches researchers how to resolve the ethical dilemmas that can arise at any stage in clinical research. In addition to explaining pertinent regulations and laws, Dr. Lo helps investigators understand the gaps and uncertainties in regulations, as well as situations in which merely complying with the law may not fulfill ethical responsibilities. Most chapters include real-life examples that the author walks through, discussing the salient issues and how to approach them. This book can be used in courses on research ethics that are required or encouraged by major NIH grants in academic health centers.
Assignments
Learners are expected to:
Complete assigned reading
View recorded lectures
Actively participate in at least one case study discussion each week
Case Studies
The following case studies were explored in the 2012 course. Each year several new case studies are substituted to keep the course current and relevant.
WEEK 1
An Internet-based Intervention for Depression (Risk)
Cognitive Impairment after Cardiac Surgery (Risk)
WEEK 2
An Internet-based Intervention for Depression (Informed Consent)
Cognitive Impairment after Cardiac Surgery (Informed Consent)
WEEK 3
Use of Neonatal Blood Samples for Research
WEEK 4
Concerns about Data Integrity
WEEK 5
Is it Plagiarism? Is it Reprehensible?
Disputes over Authorship
Adding an Author
WEEK 6
Sex Workers in Kenya
International Research Projects
Faculty and Staff
Course Directors
Barbara Koenig, PhD is an Adjunct Professor for the Institute for Health and Aging.
Winston Chiong, MD, PhD is a Clinical Fellow, UCSF School of Medicine, Department of Neurology.
Online Learning Director (Course Concierge)
Chrisanne Garrett is the Director of Online Education for the Clinical and Translational Science Institute at UCSF. Ms. Garrett is a recognized leader in adult learning, distance education, and instructional design. She directed online education programs at the University of Kansas Medical Center and Graceland University prior to her employment at UCSF in 2008. She previously designed online and CME courses for the American Academy of Pediatrics, the United Way of Metropolitan Chicago, and the American Red Cross.